Membership
in the
Friends of the Garland County Library
Anyone interested in supporting the Garland County Library is eligible for membership upon payment of annual individual annual dues of $5.00, annual business dues of $25.00 or more, annual student dues of $3.00, life member dues of $100.00, or benefactor dues of $500.00 or more. Membership forms are available at the checkout desk at the library and dues may be paid to library staff members, or you may print out the form at the bottom of this page, fill it in and mail it to the Garland County Library in care of the Friends of the Library.
         All members may vote for the officers and executive board members of the Friends of the Garland County Library Corporation at the annual membership meeting. Members also have the benefit of attending any 'Members Preview' book sales, which are held before sales are open to the general public.
Print the form below, fill it out and send it in.
 <![if !vml]>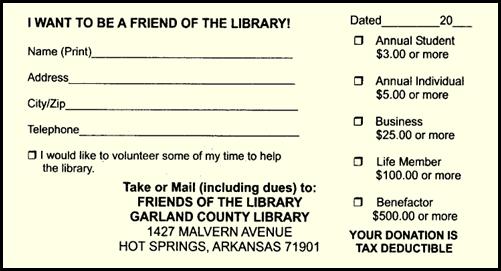 <![endif]>